FREE PAINT MIXING & COLOR MATCH!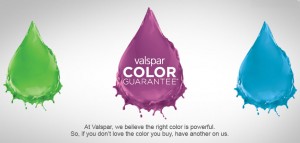 Click to find out more
FREE is the name of this game- that's right we offer FREE Custom paint matching, just bring in any flat surface and we can match the color to make sure your design is just perfect. FREE color mixing– no up charge for mixing your paint color and you can choose from a wide variety of Valspar paint colors or we can match any existing color. FREE replacement on Valspar gallons that you just don't like or it wasn't the color you fell in love with-with Valspar's color guarantee program you can get a "rebate". (click link for details)  If you have a tractor or equipment that needs to be painted we have numerous OEM paint colors in stock-John Deere, Caterpillar, and more.