TIRE REBATES GOING ON NOW!

  Firelli

 Goodyear
---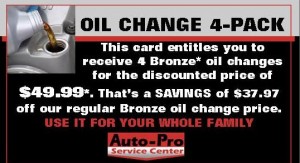 What We Do: Most "in-and-out" oil change shops provide very limited benefits beyond a fast oil change and dealerships typically charge you more for the same repair. Auto-Pro offers so much more. Our professional auto technicians have been performing oil changes & repairs for decades. But we're not just oil change experts – consider us your one-stop shop for all your maintenance, repair and tire and auto needs. We employ only top quality technicians, giving you the most complete service out there.

Our Mission: The Auto-Pro Service Center Services are designed to give you peace of mind about the condition of your car's engine while proactively maintaining the car where there are long periods between Service intervals. Our mission is to give you top notch service every time you visit us, with professionally trained technicians, personal relationships with the technician that will be performing your auto repair, a clean and comfortable waiting area,  competitive prices including labor costs, and most of all we strive to listen to what you and your car need to keep you on the road.
Oil Change Options: Along with your oil change, we offer either our Silver Oil change with a 17-point visual inspection or a Gold Oil change with a 27-point visual inspection to determine the condition of your visible car parts.