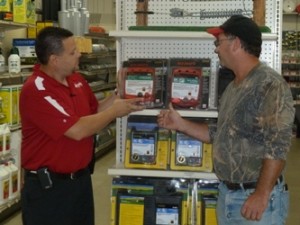 We are one of Wisconsin's largest fencing dealers. Stocking the name brands you trust such as Redbrand, Oklahoma Steel, Applegate, Dare, and Zereba. If you need fence clips, gate handles, fencers, cattle/hog panels or gates and barb wire we have it.  We will match or beat any advertised price for the same product/sku number so why go anywhere else for your fencing project.
WHAT IS FENCING & TYPES OF FENCING?

        
Fences are used in agriculture to keep animals in or out of an area. You can use a variety of materials to construct a fence. The types of materials you use will depend on the terrain of the area to be fenced in, location, and the type(s) of animals you want to confine. FIND OUT MORE
BENEFITS OF ELECTRIC FENCING

                                                                                                                                                                                                                                                                                       Safety – Electric fencing offers a safer alternative than conventional barrier fences such as barbed wire and woven wire. It's less harmful than many fence types, which routinely cut, gouge and scrape livestock, leading to expensive vet bills and production losses. FIND OUT MORE
HOW TO INSTALL ELECTRIC FENCER

 
Your
electric fence charger should be installed in a clean, sheltered location away from direct moisture and sunlight (with the exception of solar powered chargers). It should be accessible to a separate ground rod system from a home or barn. FIND OUT MORE
Click on the photos below for more product information.
  Applegate                     Dare                  Zereba              Redbrand                    Oklahoma Steel & Wire